Konoba ROZARIO postoji već više 50 god, dođite i otkrijte zašto nam se gosti uvijek vraćaju. Smješten je u samom centru povjesne jezgre grada,
uz Dominikanski samostan svega par koraka od palače Sponza na glavnoj ulici Stradunu.
Dalmatinska konoba je simbol naše obale, bivši vinski podrum preuređen u ugostiteljski objekt tradicionalnog ugođaja gdje se okupljaju
stalni gosti i uživaju uz dobru hranu i piće, a pridružuju im se turisti željni autohtonog doživljaja Jadrana..
Naša ponuda bazirana je na domaćoj, dalmatinskoj kuhinji (zdravoj, mediteranskoj) kojom ćete uz
kapljicu vrhunskog vina i klapsku
pjesmu prenijeti čari Mediterana na vaš stol! Posebno smo ponosni na naše osoblje obučeno u vrhunskim restoranima sa željom da sačuvaju
sve vrijednosti tradicionalne kuhinje.
Pored "a la carte" ponude koju redovito oplemenjujemo novim ali uvijek tradicionalnim jelima,
imamo ponudu jelovnika za grupe, prigodna i svečana okupljanja, catering , radionice škola kuhanja te degustacije vina.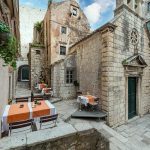 We were on tour in Dubrovnik and asked local guide where to have a good seafood lunch at Old Town of Dubrovnik and he highly recommended Rozario Konoba. What a hidden gem! Located just a block of main crowd small quiet restaurant with a few tasteful tables outside. The food, the service and atmosphere were amazing! We had the best mussels, excellent prawns and homemade seafood pasta accompanied with great white wine chilled for us in ice bucket during our dinner. Great place!!
We sat outside (book a table to avoid being seated inside which is unremarkable) and could hear the symphony orchestra playing in the main square. The food was superb - we had the truffle pasta and black ink risotto to start followed by the fish casserole. Fantastic flavours and excellent unprententious service. Would go back
Delicious seafood lunch - I had the bream. My husband had the steak. Delicious vegetables and seasoning. We had cappuccino made by the owner last - also great. This was a relaxing place to have lunch, off the beaten path of most of the tourists. It was recommended by our tour guide, and we really enjoyed it. It's a pretty small place. There is seating both inside and out.