ROZARIO Tavern has been there for more than 50 years ; come and discover why our guests keep coming back. It is located in the heart of the historic town centre, by the Dominican monastery, just a few steps from the Sponza Palace on the main street Stradun.
Dalmatian
tavern being symbol of our coast, this former wine cellar converted into a restaurant offering traditional atmosphere, where regular
guests gather and enjoy good food and drink, joined by tourists eager to experience the authentic Adriatic.
Our offer is based on the local,
Dalmatian cuisine (healthy, Mediterranean) that will convey the magic of the Mediterranean to your table by a drop of premium wine and folk songs!
 We are especially proud of our staff, trained in the finest restaurants with a desire to preserve all the values of traditional cooking.
In addition to "a la carte" offering, which is regularly enriched by the new but still traditional dishes, we offer menus for groups,
 special and festive gatherings, catering, cooking school workshops, and wine tasting.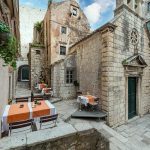 We were on tour in Dubrovnik and asked local guide where to have a good seafood lunch at Old Town of Dubrovnik and he highly recommended Rozario Konoba. What a hidden gem! Located just a block of main crowd small quiet restaurant with a few tasteful tables outside. The food, the service and atmosphere were amazing! We had the best mussels, excellent prawns and homemade seafood pasta accompanied with great white wine chilled for us in ice bucket during our dinner. Great place!!
We sat outside (book a table to avoid being seated inside which is unremarkable) and could hear the symphony orchestra playing in the main square. The food was superb - we had the truffle pasta and black ink risotto to start followed by the fish casserole. Fantastic flavours and excellent unprententious service. Would go back
Delicious seafood lunch - I had the bream. My husband had the steak. Delicious vegetables and seasoning. We had cappuccino made by the owner last - also great. This was a relaxing place to have lunch, off the beaten path of most of the tourists. It was recommended by our tour guide, and we really enjoyed it. It's a pretty small place. There is seating both inside and out.