Our Story
ABOUT US
On the extreme east of the Prijeko strip, this little restaurant stands out from its others for its family-run atmosphere and homestyle cooking – that's why you'll often find the locals lunching here.
Great and tasty homemade food.
Great and tasty homemade food. Service was nice and courteous and very helpful. Please visit this place if you have the chance!
Go Here! Amazing restaurant
A must go! Go here! You will not be disappointed. We have been here twice and both times been completely amazed at how good the food and the service are. Best dinner in Dubrovnik and the friendliest welcome. I highly recommend the Beef Tagliata it was wonderful and super tasty! I can not stress it enough how good this restaurant and its staff are. So pay them a visit! The beautiful surroundings are just a plus
Cozy atmosphere and very good food
We felt very welcomed because the owner is lovely and the woman asking people in the restaurant was very helpful and explained the specialties about the dishes to us. You get tasty home made food which is different from the surroundings. The beef steak with the sauce was amazing! Good price and nice seats just some steps from the Main Street Stradun away but much more quiet and romantic.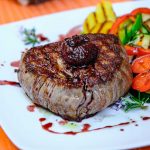 Recommendations
OUR BEST SPECIALTIES
BEEFSTEAK »ROZARIO« (in a sauce of dried figs, wine and honey, potatoes , grilled vegetables)
Special selection
FROM OUR MENU
GRILLED FISH
(daily catch), dalmatian style vegetables
WHITE FISH FILLET IN WINE AND DILL SAUCE
BRODETTO MARINIERE
fish stew with polenta
ADRIATIC SQUIDS GRILLED
with dalmatian vegetables
GRILLED OR BOUZZARA-STYLE SCAMPI
BEEFSTEAK »ROZARIO«
in a sauce of dried figs, wine and honey, potatoes, grilled vegetables
BEEF TAGLIATA
sliced steak on rocket leaves (arugula) and parmesan
MEDALLIONS OF PORK FILLET IN TRUFFLE SAUCE
with home-made gnocchi)
CHICKEN BREAST IN A SAUCE OF PROŠEK
(sweetwine) and raisins with boiled vegetables
VEGETARIAN PLATE
stuffed,grilled and boiled vegetables
Our food philosophy
DEAR GUESTS
Our policy is to serve in a courteous and cheerful manner daily fresh home style cooking and to maintain at all times fair prices
Rozario tasty offer
OUR MENU